Description
The Voyager OneTwo is our flexible packraft power for 1 to 2 people. Lightweight, robust, versatile…
Two-person setup
In the standard setup, 2 adults can paddle relaxed. The Voyager is the ideal hiking boat for 2 people, and it is absolutely white water-ready up to WW3.
2 adults and a smaller child also paddle comfortably.
The Voyager OneTwo has a spacious luggage storage space inside the tube (option: internal storage system). The optional bow bag has space at the front for everything you need during the tour. 2 people can easily experience multi-day river hiking tours.
The Voyager is narrow enough (94cm) to be ridden with double paddle. Alternatively, it can also be controlled with sting paddles.
Solo setup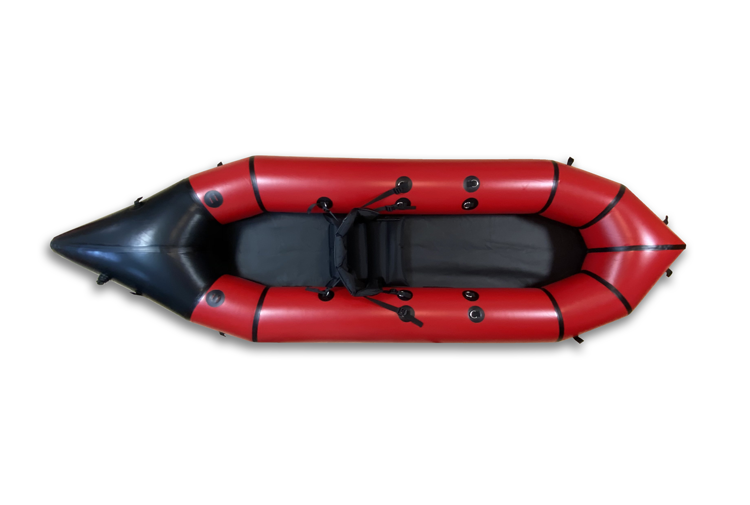 The Voyager OneTwo can also be driven as a spacious single seater. This makes the Voyager a real cargo boat. For this purpose, we have designed an additional option of seat configuration:
The rear seat is removed. The front seat is positioned further back (i.e. very central). A lot of additional luggage can be stored behind the seat. At the front there is enough space for a child, dog, bike or fishing accessories.
The focus of gravity moves forward in total, which is reflected in better driving characteristics, especially in white water. Solo, of course, the Voyager is less responsive than the Torrent XL.
It is recommended to use 1 or 2 fins in single person use. There are fin mountings both at the bow and stern.
The directional stability is improved by the fins significantly, especially if there is no luggage at the front or back of the packraft.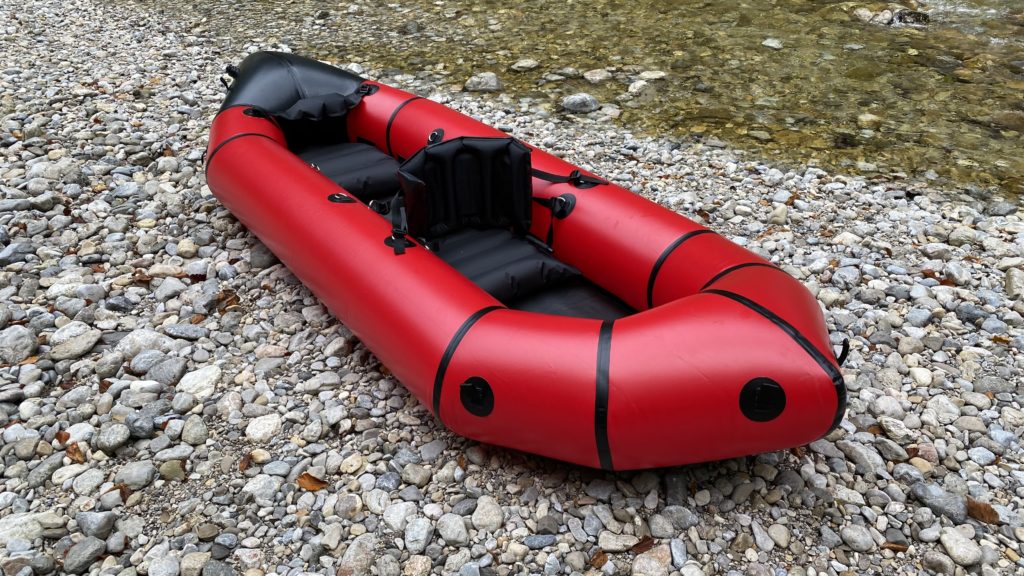 General
The boat material is robust, high-rip-resistant TPU coated nylon (420D TPU) on the tubes. The bottom is made of extremely resistant 840D nylon with TPU coating on both sides. The tubes are bonded and welded.
The bottom and tubes are additionally internal belt welded.
The optional internal storage system is realized by a waterproof TIZIP ® at the stern. Inside the boat, the complete equipment for the tour can be stored: tent, sleeping bag, sleeping mat, cookware or clothes.
The entire packraft becomes a huge dry bag with up to 340 liters of storage space. The TIZIP was developed and manufactured in Germany. It works very reliably and is extremely robust. For occasional care, conventional silicone grease is used (a tube included).
For better luggage management, waterproof tube-shaped drybags (each 60 liters or 40 liters) are available as an option.
A colour-matching waterproof bow bag for all things you need at hand is available in the shop.
The Voyager OneTwo can achieve sustained cruising speeds of 6 km/h.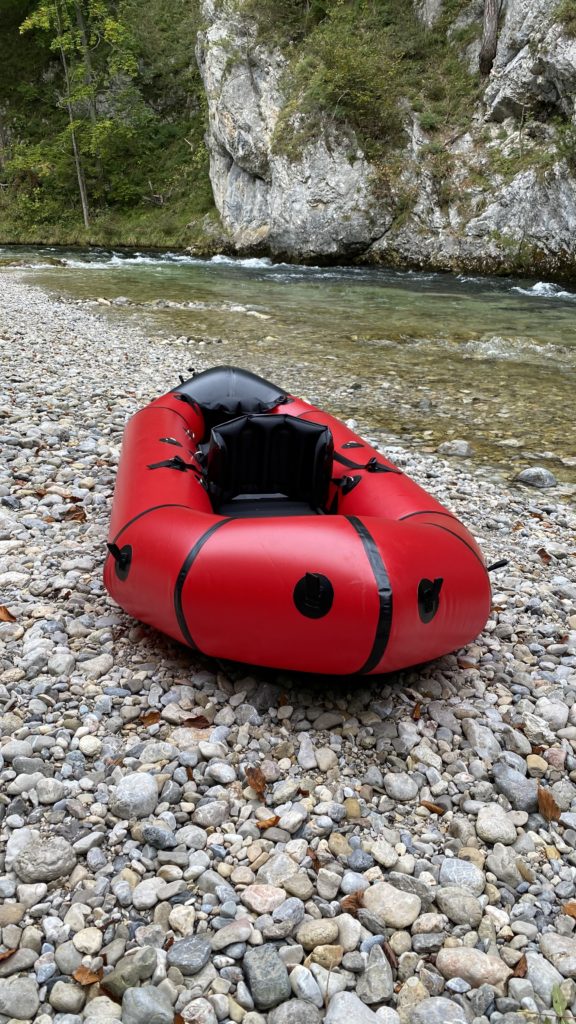 Dimension
Outer length 303cm. Outer width: 94cm.
Innenlänge 195cm. Inner width 35cm.
Tube diameter: 29.5cm.
Color: Red.
Payload: 260 kg
Average speed: 6 km/h
Package includes
Packraft: 4.25 kg
Packing belt: 23g
Packing bag with carriers: 368g
Inflation bag: 140g
2 standard seats (removable): 239g
Standard rear backrest (removable): 80g
adjustable comfort backrest front (removable): 210g
Repair set: 50g
Silicone grease for TIZIP® (with option TIZIP)
Processing
Thermally welded and glued tubes, glued and seam-belt welded bottom.