Description
The torrent has a wide range of applications. First and foremost, it is designed for use in white water. The Torrent is hard to take in any case: lace stones, dog claws, touches with rocks in the water do not bother this packraft.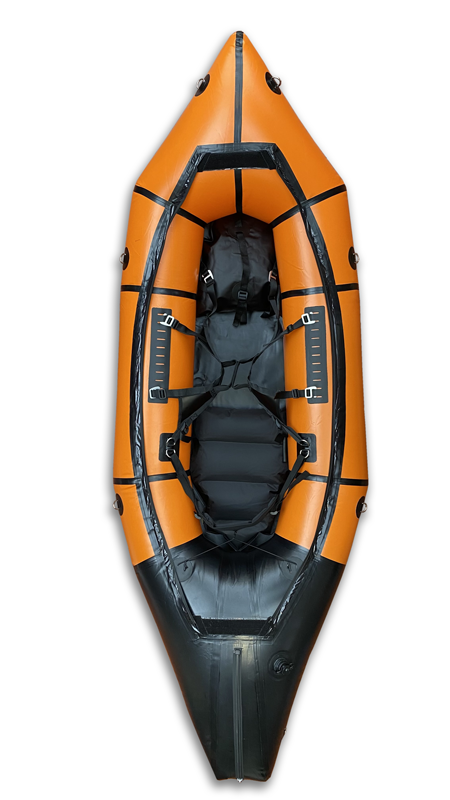 Due to its dimensions, the Torrent XL is a good-natured, easy-to-steer boat in white water. Even beginners can cope quickly with this packraft in the white water. Due to its width, it is very tilt-stable, so it is difficult to capsize. The response is somewhat reduced compared to the smaller Spirit. The distinctive rocker supports the use as a white water boat.
The tubes are made of robust TPU coated, high-strength nylon fabric (420 D). The floor is made of an extremely resistant, high-tear nylon fiber (840 D) with double-sided urethane coating (TPU). The hose connections are glued, sewn and welded. The bottom and tubes are additionally internal belt welded.
The internal storage system is realized by an air- and waterproof TIZIP® at the stern. Inside the boat, the complete equipment for the tour can be stored: tent, sleeping bag, iso mat, spare paddle, cookware or clothes. During day trips, the carrying backpack and changing clothes can be stored here.
The packraft is a dry bag with approx. 280 litres of storage space.
For better storage management, waterproof tube-shaped drybags are available as an option.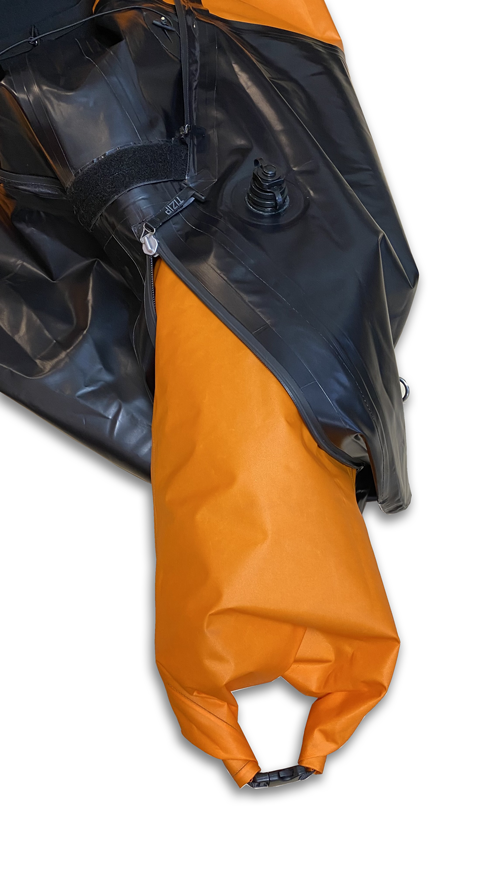 A colour-matching waterproof bow bag for all things you need at hand is optionally available.
A skeg (fin) can be mounted on open waters to optimize the straight line. The skeg fastening for this is already mounted.
In white water we recommend the use of thigh straps. The attachments for this are pre-assembled.
Package includes
Packraft: 3.5 kg
Packing belt: 28g
Packing bag with carriers: 366g
Inflation bag: 140g
Standard seat (removable): 240g
adjustable sports backrest (removable): 100g
Coaming: 160g
Cover without spray skirt: 530g
Spray skirt: 280g
Repair set: 50g
Silicone grease (TIZIP®)
Processing
3-fold composite: Thermally welded, sewn and glued tubes. Glued and seam-covered floor.